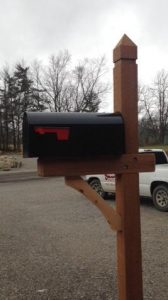 The original supplier for the Britton Farms mailboxes was Cedar Craft Products, whose 2017 flier is attached. The mailbox standards established by the grantor, per the restricted covenants, are described below. Roush Hardware also has a book for Cedar Craft Products which contains the code for these same standards. The standards have not been revised and remain in effect.
While your Britton Farms HOA Executive Board does not expect neighbors to replace recently purchased posts or mailboxes that are not within the standard (unless egregiously out of standard, such as a white mailbox), we do ask that mailboxes be brought into standard as much as is reasonable. This includes replacing posts and boxes that are in poor condition, painting posts the standard color, and ensuring the proper mailbox numbers are on both sides of the post. Any replaced mailboxes or mailbox parts should meet the standards posted.
This information is also available on the Downloads page.
Mailbox Flyer from Cedar Craft:
Cedar Craft Products, Inc.
P. O. Box 9
776 Reynoldsburg – New Albany Road
Blacklick, Ohio 43004
Ph. (614) 759-1600 Fax. (614) 759-1418
Britton Farms 2017
Code # BFM8Dv2B
This set come with a standard size black metal box w/red flag on DJ01- 4×4 rough sawn western red cedar post with brace. Painted with Sherwin Williams SW6089 grounded in flat formula with 4" black plastic nail-on house numbers on both sides of post.
Options:
Cedar Craft will remove your existing mailbox unit and install the new mailbox unit. (Disposal not included. Contact your waste company for disposal.)
Cost $ 185.62 (+) sales tax $ 13.92 = $ 199.54
Cost $ 155.62 (+) sales tax $ 11.67 = $ 167.29
Pick-up at Cedar Craft's factory. Located at 776 Reynoldsburg New Albany Rd., Blacklick, OH 43004
Cost $ 120.62 (+) sales tax $ 9.04 = $ 129.66
Parts (sale tax extra)
Standard size rounded black metal mailbox w/red flag $ 20.50
DJ01 – 4×4 cedar post w/ brace $ 66.52
Blocks for metal to attach to post $ 10.00
4" black nail-on plastic house numbers $ 1.96 each
Add HOA-approved paint (Sherwin Williams SW6089 grounded in a flat formula) $ 17.92
Repair fee $ 40.00
Replacement installation fee $ 85.00 (Removal and installation)
Installation only fee $ 50.00
Mailbox Post Color:
Mailbox Numbers: